The dictionary definition of integration is–to form, to coordinate, to combine or to blend for the purpose of creating a unified, functioning whole. Bufo, our Toad Sacrament, 5-MEO-DMT is a powerful medicine that brings us into our deepest formative selves, catalyzing profound, intricate processes within soul, psyche, and body. The Sacramental process draws out submerged, deep dwelling aspects of psyche, bringing fragmented aspects of our self to awareness, for release and healing. But entheogenic communion, the taking of the medicine, is only the first step in the process. The next step, after communion, is the assimilation process that comes in the days, weeks and even months following a sacramental journey. This is the integration period. The time where psychological healing and spiritual illumination come together again as a functioning whole. The time in the process when the work is done.
The Sacramental process establishes what is in a sense a new part of you that has been healed. A new and different part that must be returned, re-aligned, and integrated into your old familiar self. This can be an intense process, for some an overwhelming process. Here are a few ways to move through and stay grounded during the integration period.
Firstly, you want to allow the process to manifest in a space of awareness. If you let yourself become caught up in the hustle of life, you might miss the more subtle aspects of integration and lose the meaning the medicine intends to convey. Further, the intense aspects of integration might catch you by surprise, which can be overwhelming without some kind of mindfulness practice. As the medicine shows you things about yourself that were previously unconscious, you will get important insights into the meaning of your healing process. For this reason, you will want to have an internal space in your life that is grounded and peaceful, so you will be mindful enough not to suppress or ignore the medicine's message because you are thinking you are just having 'a bad day'. It is common that this kind of release and insight is the key that facilitates the integration of the new self into the familiar self, becoming the moment of healing and transformation.
An excellent way to work with the integration process is meditation. Meditation practices during integration will give you the internal stability to work with uncomfortable feelings skillfully. Integration is a natural process of non-resistance, that gives us a mindful detachment, that builds in us the skill to allow the process to happen unimpeded. Meditation can be a sitting practice with an object of focus, such as on breath. Some people who prefer more active means of meditation might try yoga, tai-chi, or esoteric visualization practices. It is important when choosing a meditation not to force yourself into a practice that doesn't suit your temperament. For some people working with their hands, like cooking or woodworking are meditative, as is playing music or drawing.
Post ceremony diet is an important aspect of the integration process. Without stipulating what kind of food you should eat; a diet of hardy solid foods will go a long way to helping you stay grounded and in touch with your body. Drink plenty of water. Vitamin supplements can be good too. Stay away from alcohol and stimulants like caffeine, which harm the quality of, and can even destroy the integration. Cannabis can sometimes serve the integration process, if used with skill and intention, but be advised that cannabis use can re-activate the medicine experience, so it is a good idea to start small and with a focused intention. Get all the sleep you need.
Talking with others about what you are experiencing can be crucial in working through the integration process. It is good to have someone in your life you can share with openly what you are experiencing. If during the process you begin to feel overwhelmed, it's important that you don't isolate yourself. Having a friend or a social circle in the medicine community can be critically important during those times. If you feel overwhelmed, please consult the list below, which includes free counselling services for concerns related to entheogen issues. Also, because the medicine can trigger a variety of unresolved aspects of self, we have included an extensive list of mental health related services for a diversity of communities.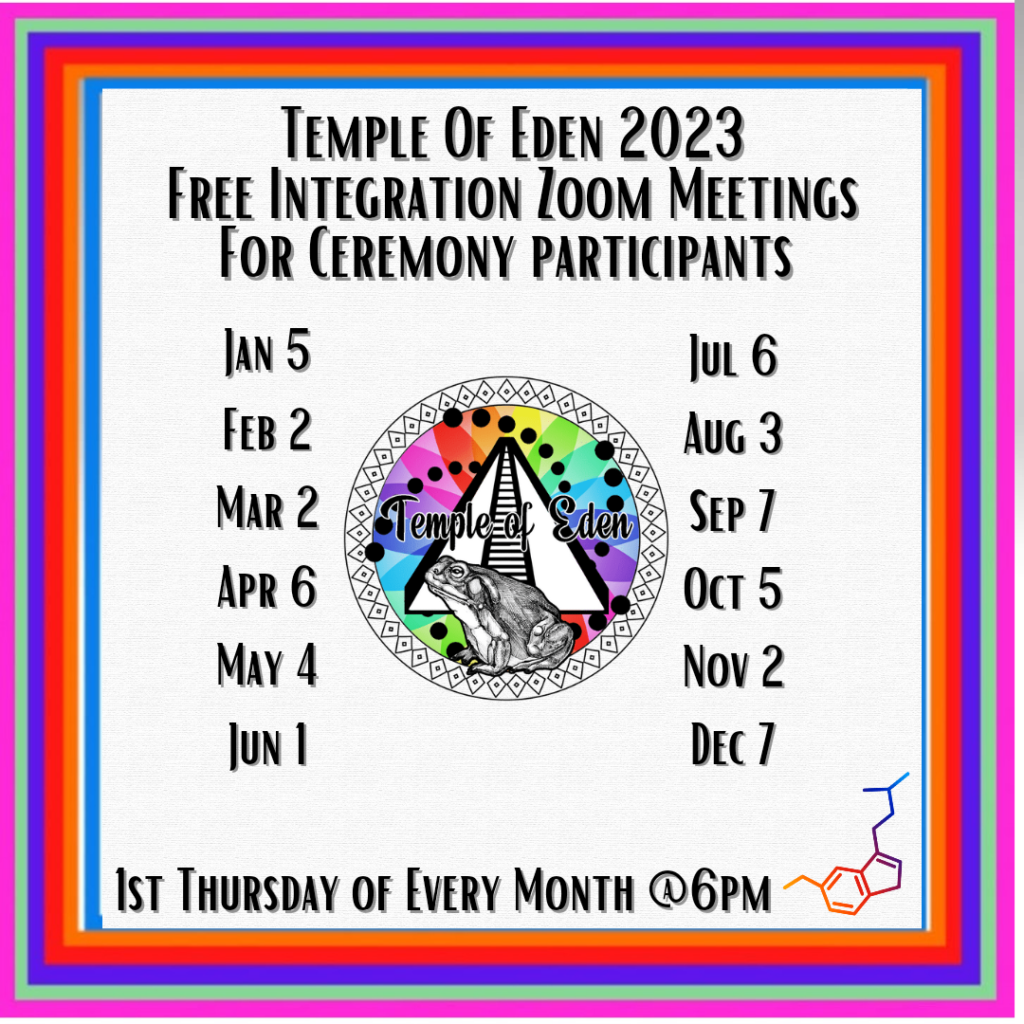 2023 Monthly Integration Zoom Meetings
All participants and members are welcome to join our free monthly integrations calls on the first Thursday of every month from 6pm-8pm PST.
Dr. Benjamin Malcolm, PharmD, MPH, BCPP Spirit Pharmacist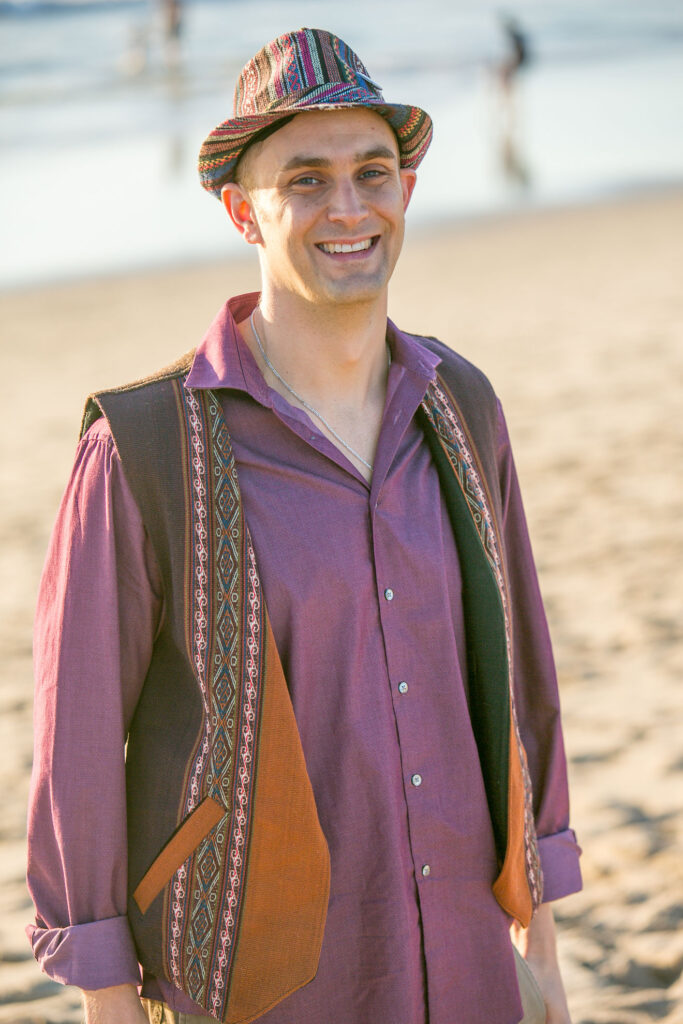 Support Resources and Services
FIRESIDE PROJECT: Free psychedelic peer support. Peer to peer assistance for issues arising from psychedelic/entheogenic experiences. 623-473-7433
BEING TRUE TO YOU: A crisis support hotline. Talk with a professional trained in providing soul-centered a safe space and guidance on grounding tools and techniques, call: 833-379-0070 Or https://beingtruetoyou.com/crisis-support/ 
SPRITUAL EMERGENCY NETWORK: Connect with a mental health professional who is trained to facilitate spiritual growth counseling. http://www.spiritualemergence.org 
7CUPS: 24/7 support resource. Provides a friendly ear if you ever need someone to talk to. We understand the powerful healing that can come just by being heard. Anonymous and free. http://www.7Cups.com 
CRISIS TEXT LINE: Talk to trained crisis text counselor 24/7. Free. Text: START to 741-741
PSYCHEDLICS IN RECOVER: For those in a 12-step program or are in recovery and need support. https://www.psychedelicsinrecovery.org
ANCESTOR PROJECT: Provides a safe space for BIPOC (Black, Indigenous and People of Color) to share their healing journey with entheogenic and Earth medicines. https://thesabinaproject.as.me/schedule.php?appointmentType=17858535 
TREVOR PROJECT: Provides crisis intervention and suicide prevention counseling to lesbian, gay, bisexual, transgender, and questioning (LGBTQ)young people ages 13-24. 866-488-7386
TRANS LIFELINE: A Trans-led organization that connects trans people to community, support, and resources they need to thrive and survive. 877-565-8860
RAINN: National Organization for the prevention of sexual violence. 800-656-HOPE
NATIONAL SUICIDE PREVENTION HOTLINE: 800-237-8255
NATIONAL ALLIANCE ON MENTAL ILLNESS HELPLINE: 800-950-6264
NATIONAL INSTITUTE OF MENTAL HEALTH DEPRESSION AND PANIC ATTACKS DISORDER HOTLINE: 800-421-4211
NATIONAL INSTITIUTE OF MENTATL HEALTH DEPRESSION AND PANIC DISORDER HOTLINE: 800-421-3211
NATIONAL CENTER FOR POST-TRAUMATIC STREES DISORDER INFO LINE: 802-296-6300
AMERICAN TRAUMA SOCIETY: 800-556-7890
BOYS TOWN NATIONAL HOTLINE: 800-448-3000
SUBSTANCE ABUSE AND MENTAL HEALTH SERVICES ADMINISTRATION: 800-662-4357
RELAPSE PREVENTION HOTLINE: 800-RELAPSE
800 ALCOHOL: 800-ALCOHOL
800 COCAINE: 800-COCAINE
AL-ANON/ALTEEN: 800-356-9996
AL-ANON FAMILY GROUPS, INC.: 800-344-2666
ALCOHOLICS ANONYMOUS: 212-870-3400
CANCER INFORMATION SERVICE: 800-4-CANCER
CDC NATIONAL HIV AND AIDS HOTLINE: 800-342-2437
NATIONAL DOMESTIC VIOLENCE HOTLINE: 800-799-7233
VETERANS CRISIS LINE: 800-273-8255
LGBT NATIONAL HOTLINE: 888-843-4564
COMPULSIVE GAMBLING HOTLINE: 410-332-1111
GRIEF RECOVERY HELPLINE: 800-445-4808
INTERNATIONAL ASSOCIATION FOR NEAR-DEATH STUDIES: 860-882-1211
NATIONAL COUNSEL ON SEXUAL ADDICTION/COMPULUSIVITY: 800-321-2066
SURVIVORS OF INCEST ANONYMOUS: 410-282-3400
Questions About Ceremony?